HP Pavilion Gaming 15-ec1050AX (15.6 Inch 144Hz FHD/AMD Ryzen 5 4600H/8GB RAM/1TB HDD+256GB SSD/Windows 10/Nvidia GTX 1650ti 4GB Graphics)
7.5

/10
(Expert Score)
CPU: AMD Ryzen 5 4600H

|

6 Core

|

12 Thread

|

8MB of Total L3 Cache

|

3 GHz

|

4 GHz
RAM: 8GB of RAM

|

DDR4 3200MHz

|

Single Channel 2x DIMM slot
Storage: 1TB HDD, 256GB SSD

|

1x 2.5-inch SATA Slot for SSD/HDD Expansion

|

1x M.2 Slot
GPU: NVIDIA GTX 1650ti

Mobile

,

4 GB VRAM

|

AMD Radeon RX Vega 6 (4000/5000 Series)
Display: 15.6 Inch

|

FHD (1920 x 1080)

|

LG Philips LGD05FE

|

144Hz
Battery: 52.5 Watt Hour
Operating System:Windows 10
Ports: 1x USB 3 (Type C)

|

1x USB 3.0 (Type-A)

|

1x USB 2.0 (Type A)

|

HDMI

|

Rj- 45 Ethernet Jack

|

SD Card Reader

|

3.5 mm Combo Audio Jack
Other Features: Keyboard: Backlit

,

Chicklet Style

|

Weight:2.08 Kg

|

Additional Features: Bluetooth 5, Wifi 6
Last Amazon price update was: October 4, 2022 11:59 AM
*Disclaimer: The price & specification of the given product may differ from the actual product. Please confirm on the retailer's website before buying.
Last updated on October 4, 2022 11:59 AM
Description
Laptop Review:
HP Pavilion Gaming 15-ec1050AX
The HP Pavilion Gaming 15-ec1050AX is powered by the 6 core AMD Ryzen 5 4600H processor and a GTX 1650Ti with 4 GB of VRAM. The display here is the 144Hz FHD (1920x1080p) panel. Other specs include 8 GB RAM and 1TB HDD+256GB SSD.  This is a great laptop if you are a professional creator, engineers, or gaming this is a great laptop. 
PROS:
Good Options For Upgradability (2x SO-DIMM Slots | 1x M.2 Slot | 1x 2.5 Inch SATA Slot)
Great Entry Level CPU
Backlit Keyboard
Decent Port Selection
Fast 144Hz Display
Fast Dual Channel Memory
Decent Battery Life
Great Design
Design and Ports
The HP Pavilion Gaming 15-ec1050AX has a black plastic chassis with a smooth finish and an angular design. The hinge also has an angular design and can be opened with one hand to a maximum angle of 130 degrees however, is a fingerprint magnet. In terms of looks, it has a minimalist look and you won't feel uncomfortable taking it out in a professional setting. The speaker grill sits above the keyboard with hexagonal patterns which is a nice touch. 
Ports: 
The port selection here is nothing special but it's nice to have an SD card slot. 
1x USB 3.0 (Type C) | 1x USB 3.0 (Type-A) | 1x USB 2.0 (Type A) | HDMI | Rj- 45 Ethernet Jack | SD Card Reader | 3.5 mm Combo Audio Jack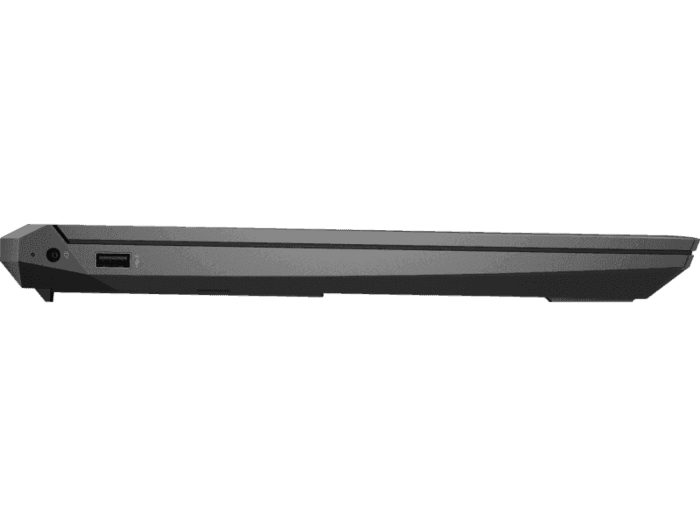 Keyboard and Trackpad
The HP Pavilion Gaming 15-ec1050AX  has a chicklet style backlit keyboard. The keys have a clear actuation point with a little flex and you will have decent tying experience. The trackpad on the other hand has a smooth matte surface though it lacks a little precision.
Overall Performance
The HP Pavilion Gaming 15-ec1050AX is powered by the AMD Ryzen 5 4600H which is slightly more powerful than the i7 9750H. The 4600H should be able to handle most of your active workloads of Photo and Video editing or any other CPU-intensive task the only bottleneck here being the 8GB of RAM which you can easily upgrade. The GTX 1650TI, on the other hand, is an entry-level GPU with limited potential for GPU intensive tasks such as 3D rendering and Gaming. Now compared to the previous GTX 1650Ti is about 10 percent more powerful than GTX 1650 and is about 5 percent slower when compared to GTX 1060.  
Display: 144Hz FHD (LG Philips LGD05FE)
The FHD panel on the HP Pavilion Gaming 15-ec1050AX has a 144Hz Refresh rate and doesn't suffer from and noticeable issues such as backlight bleeding and PWM flickering. The display here has decent color coverage and below-average brightness and suitable for outdoor use.
Display Specs:
Panel Model Number: LG Philips LGD05FE
Coverage: 95% sRGB | 61% AdobeRGB 
Measured Gamma: 2.31;
Max brightness: 250 Nits;
Contrast Ratio: 820:1;
Black on max brightness: 0.42 cd/m2;
PWM Flickering: No;
HP Pavilion Gaming 15-ec1050AX
Specs
Specification:
HP Pavilion Gaming 15-ec1050AX (15.6 Inch 144Hz FHD/AMD Ryzen 5 4600H/8GB RAM/1TB HDD+256GB SSD/Windows 10/Nvidia GTX 1650ti 4GB Graphics)
Model
Ports
| | |
| --- | --- |
| Audio Jack | |
| Card Reader | |
| HDMI | |
| LAN Ethernet Jack | |
| USB 2.0 (Type A) | |
| USB 3.0 (Type A) | |
| USB 3.0 (Type C) | |
Specs
| | |
| --- | --- |
| Processor/CPU Model | |
| CPU Base Clock | 3 GHz |
| CPU Boost Clock | 4 GHz |
| CPU Core Count | 6 Core |
| L3 Cache/SLC | 8MB of Total L3 Cache |
| CPU Thread Count | 12 Thread |
| CPU Generation | |
| CPU/Processor | |
| CPU Class | |
| RAM Speed | |
Display Specs
| | |
| --- | --- |
| Display Refresh Rate | |
| Display Resolution | |
| Display Size | |
GPU Specs
| | |
| --- | --- |
| Dedicated GPU Model | |
| GPU VRAM | |
| GPU Design | |
| iGPU Model | |
Country
Specification
| | |
| --- | --- |
| Operating System | |
| RAM | |
| Storage Size | |
| Storage Type | |
| Key Type | |
| Brands | |
| RAM Channels | |
| Battery Size | |
| 2.5-inch SATA Slot for SSD/HDD Expansion | |
| Keyboard Backlight | |
| Additional Features | |
| Weight | |
| RAM Expansion | |
| M.2 Slot For SSD Expansion | |
| Display Model | |
| Product Category | |